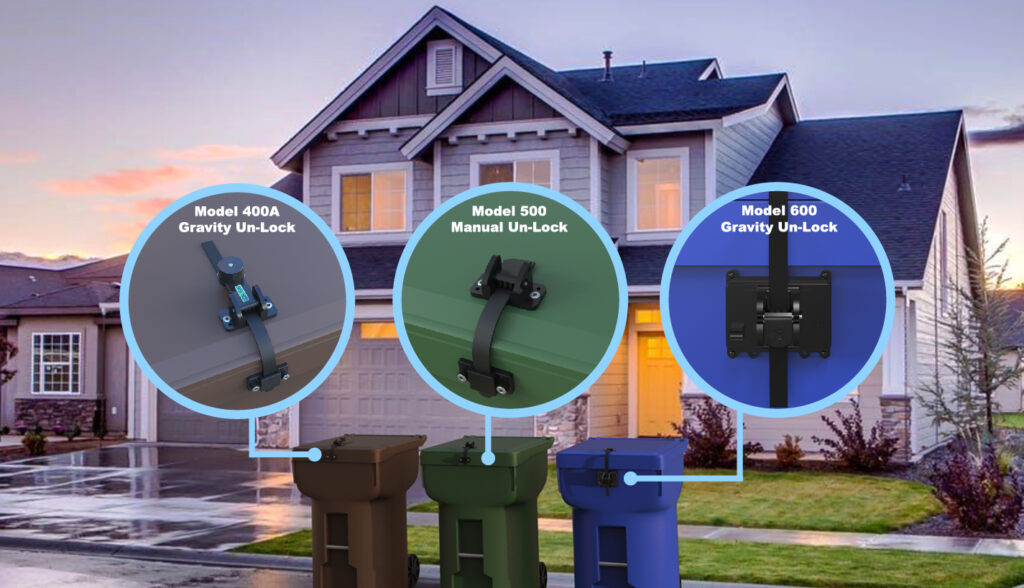 Complete Gravity & Manual Solutions.
CanLok's are designed to secure the lid on residential and commercial tote bins. Sometimes called wheelie bins, toters, and roll-out carts these bins are susceptible to being tipped over by the wind or by animals such as raccoons, possums, dogs, etc. Many of these animals can also open the lids without turning the cans over. CanLok's will defeat them every time!
Wind/Raccoon Resistant Lock
Bear Resistant Manual Lock/Unlock
Fully Lockable Gravity Lock
With the Model 400 and 600 locks the mechanism works by gravity when the container is tipped by the garbage truck. The strap is released from the lock and allows the lid to open. When you close the lid, simply insert the strap back into the lock assembly to secure it until you want to open it again.
As far as we know…they work on Sierra, Rehrig Pacific, Otto, Wastequip Toter, Cascade, RMI, SSI-Schaefer, IPL and more. 
Well, sort of… CanLok Model 500's are Bear Resistant which is as good as the ratings get. Left indefinitely, the lock or strap might give way to a large bear but it is a time game, they spend a very short time on trying to get in and if they don't get what they want quickly, they move on to easier pickings. 
we believe in innovation.
we believe in connection.